Military Surplus in Boise, Idaho
We specialize in Outdoor recreation gear, Whitewater rafting rental & Sales, & Kayaking Sales
4924 W Chinden Blvd. Garden City, Idaho 83714
Open Monday – Saturday 9am – 6pm, Sunday 11am – 5pm
Learn more about our products by clicking on a photo below.
Family owned & Local

We pride ourselves on our great customer service
Welcome to the Boise Army Navy Store. We have been in the military surplus and outdoor recreation supply business for over 30 years. We are a locally owned and operated retail business. Our mission is to make sure you get what you need to enjoy the great outdoors year round. We have professional, friendly service and great products at reasonable prices.
Outdoor & Hunting Supplies We carry a wide selection of products for people who love the outdoors, or who want to be prepared for any emergency, or who like comfortable clothing and shoes, or who love to hunt or who like knives and other sharp, pointy objects!
Camo & Military Surplus Sales We have a wide selection of camo, tactical and recreational clothing, used, military surplus and new. We carry products from well known companies: Propper, Condor, Rothco, just to name a few.
Camping Supplies in Boise We have camping and outdoor recreational products from Stansport, Texsport, GSI and Reliance.
Large Selection of Boots & Shoes We have a variety of boots, sandals, water shoes and carry in-store the Vibram FiveFingers.
Warm Wool Clothing We have wool everything: blankets, hats, socks, mittens and sweaters!
AND WE HAVE EMERGENCY SUPPLIES! Make your own kits or buy one ready-made, but don't be without a GET HOME SAFE BAG!
Sign Up for Our Mailing List for latest Specials & Promotions.
Shop WIth Us and Save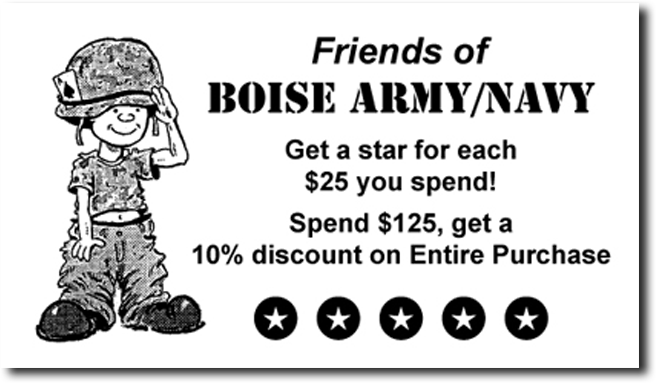 Want to become a friend of Boise Army Navy? Come on in and get your punch-card! Get 10% off entire purchase every time you reach $125 spent at Boise Army Navy.
FEATURED SALES & SPECIALS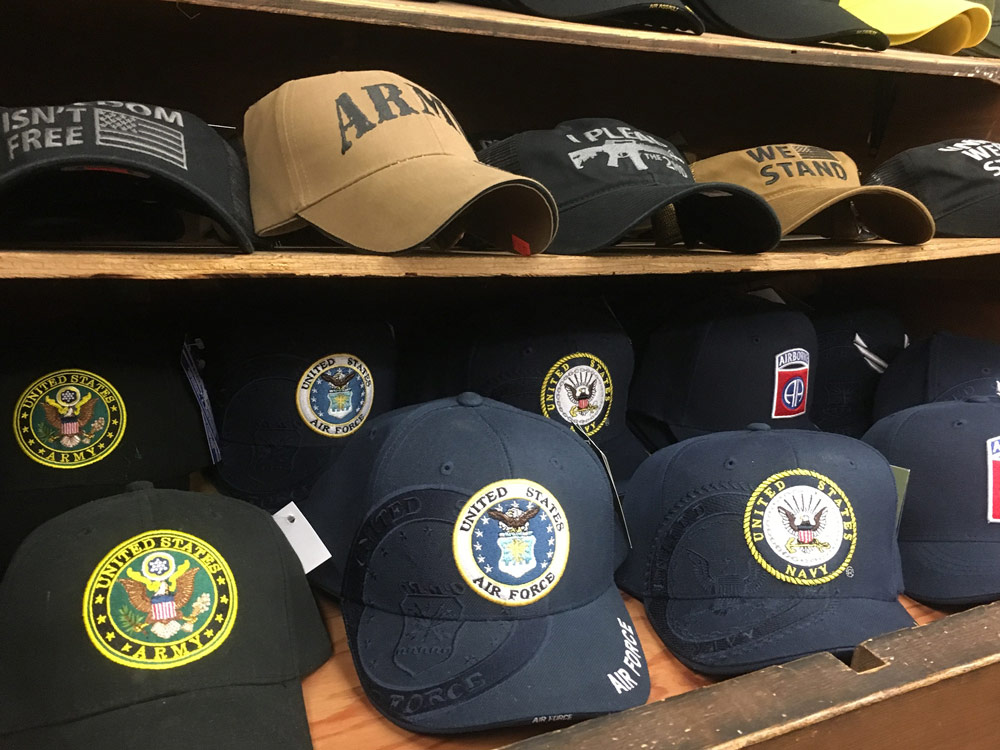 NOVEMBER IS MILITARY PERSONNEL'S MONTH!
Whether you're a cadet or an active/retired military personnel, enjoy 10% discount on all regularly priced merchandise!
Proud to carry these outstanding products