WHITE WATER RAFT RENTALS & KAYAK SALES IN THE BOISE AREA
4924 W. Chinden Blvd. Garden City. Idaho. 83714.
Open Monday- Saturday 9am – 6 pm. Sunday 11am – 5 pm
Boise Army Navy has been renting, selling and repairing rafts and kayaks for over 30 years!
WE RENT OUR RAFT PACKAGES, INFLATABLE KAYAKS, PADDLE BOAT PACKAGES & ACCESSORIES. CALL TO MAKE YOUR RESERVATION.
We have Aquaglide inflatable kayaks in stock! $149.97 – $439.97
OUR RAFT AND KAYAK RENTAL PROGRAM WILL START SOON FOR 2019.
YOU CAN START MAKING RESERVATIONS FOR SUMMER RAFTING STARTING THIS APRIL!
IN STOCK NOW!
Inflatable Rafts:
Solstice Sportsman Runabout ONE LEFT! $850.97
Solstice Outdoorsman 9000 $159.97
Solstice Voyager 800 $119.97
NRS Outlaw ONE LEFT! $1995.00
Kayaks:
Aquaglide Chinook XP2 ONE LEFT! $439.97
Aquaglide Yakima $149.97
Aquaglide Chinnok XP Tandem XL $529.97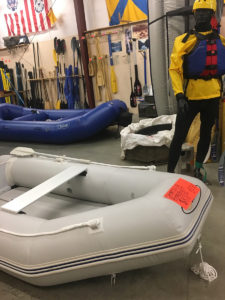 REMEMBER: If you buy a new raft, you get 20% off regular price on all rafting accessories AND 10% off regular price all other store items purchased on same day!
We rent 10′, 13′, 14′ and 15′ Hyside Self Bailers and 1 and 2 person kayaks.
INFLATABLE RAFTS ON SALE NOW!
Gently Used Hyside 15′ Pro. Seats up to 10 people. $2500
Inflatable, self bailing
Triple bonded seams
Heavy duty Hypalon coated denier fabric construction
Leafield valves
Removable hinge and pin thwarts
Patched but NO LEAKS!
These rafts have been used in our rental program and are now on sale at half the price of a new one! Great deals!
If you're looking for a great summer activity near Boise, ID, visit Boise Army Navy and check out our great selection of kayak and raft rentals.
Whether you're interested in renting rafts for the weekend or buying your own so you have them on hand whenever you need them, you can find what you need at Boise Army Navy.
We offer a wide selection of kayaks and rafts to make this a summer to remember—no matter how large or small your group is. You can rent one-, two-, and three-person kayaks or river rafts from small to large sizes.
For more info about our white water raft sales and rental options, give us a call at 208-322-0660. We're happy to help you find the perfect rafts or kayaks to make the most of those hot summer months.
Below, check out our rental and reservation policies as well as all the equipment options we offer.

Rental Policy
At Boise Army Navy, we're proud to offer a true 24-hour rental. For example, if you schedule a rental for a Friday, you can pick up the rental after 4 pm on Thursday and the rental is due back to us on Saturday by noon. You get the rental for a full 24 hours—and then some!
All of our kayak and raft rental packages include the following supplies:
Dry bags
Flotation devices
Helmets
Idaho invasive species sticker
Paddles or oars
Repair kit
Throw bag
Rentals of three days or longer also receive an extended-trip repair kit, and rentals of five days get a sixth day for free.
You can pick up your equipment between 4:00 and 5:30 pm the day before your rental, and everything is due back by 12:00 pm the day after your rental period ends.
Reservation Policy
Reservations are a good idea for the weekends, the busy months of June, July, and August, and for large groups.
Call with questions; we aim to be accommodating!
Reservations can be made in person or via the phone.
A deposit of half of the total of the rental cost is required in order to secure the reservation.
The deposit is fully refundable prior to 15 days before the date of rental. At 14 days prior to date of rental, the deposit becomes non-refundable
Rights and Responsibilities
All boats are sent out deflated and are expected to be returned that way.
Customers are not expected to clean boats. We will inflate, clean, and inspect all boats for damage upon their return.
Lost or damaged items will be replaced at customer's expense.
A responsible party, over the age of 18, will be required to sign a liability waiver before leaving with equipment.
A security deposit in the form of credit card numbers will be held until rented items are returned and inspected for damages.
Refunds will not be issued due to inclement weather or late pick up/early drop off.
Customers taking equipment out of state are responsible for securing all necessary permits and stickers in those respective states.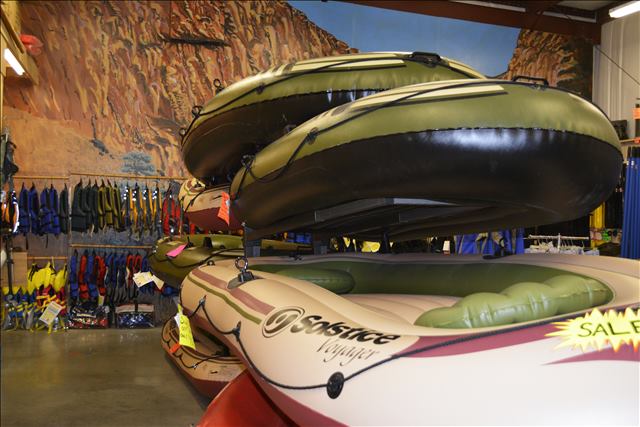 The Equipment
All rental boats are Hyside brand rafts and kayaks made of high quality Hypalon rubber.
All of our rental boats are self-bailing.
All rental boats include a repair kit, a throw bag, and an Idaho invasive species sticker.
PFDs are universal fit and are available in adult (90lbs and up) and youth (50lbs-90lbs).
Helmets are available in adult one size fits all.
Splash Jackets are available in sizes S to XXL.
Farmer Johns are available in sizes XS to XXL.
Pumps are manual: Paddle and frame packages come with 4" Carlson high volume barrel pumps. Inflatable kayaks come with compact Hyside double action pumps.
Frames (Large and Small) are the Salmon River model by Cambridge Welding.
Paddle Packages
10', 2-4 people -$50/day
13', 4-6 people -$60/day
14', 6-8 people -$70/day
15', 8-10 people -$75/day
All paddle packages include:
Frame Packages
13'-$65/day
Small Frame w/straps, 38" Dry Box, 80Qt Cooler, 8' Oars x3
14'-$75/day
Large Frame w/straps, 40" dry box, 120Qt cooler, 9' Oars x3
15'-$80/day
Large Frame w/straps, 40" dry box, 120Qt cooler, 9' Oars x3
All frame packages include:
Inflatable Kayaks (Duckies)
1 Person- $35/day
PFD, Helmet, Paddle, Pump
2 Person- $45/Day
2 PFDs, 2 Helmets, 2 Paddles, Pump
Gear (Daily Rates)
PFD-$5
Helmet-$2
Splash Jacket-$4
Farmer John-$7
Paddle-$3
9' Oar x1-$6
Large Frame w/straps-$20
40" Dry Box-$10
120Qt Cooler-$5
115L Dry Bag-$4